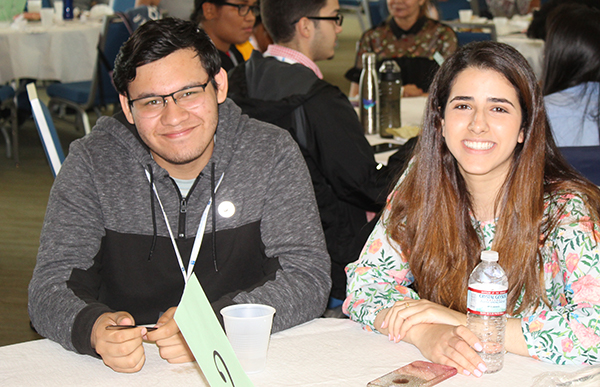 The Research Education Core (REC) provides trainees with science enrichment education and mentored research experiences that emphasize professional development, inclusive support, and team science across multiple disciplines. The REC aims to increase the number of UMass Boston students—particularly those from underrepresented minority backgrounds—who are interested and well-trained in cancer/cancer disparities research. Students will engage in cancer-related basic, clinical, population, and nursing research experiences in UMass Boston and DF/HCC labs and research settings. Visit student training for research training opportunities within the Partnership and regionally.
Services for project investigators
Student recruitment: Assistance in identifying UMass Boston undergraduate, postbaccalaureate, and graduate students and postdoctoral trainees to work on Partnership-related projects.
Cancer and disparities research education and career development: Workshops to prepare UMass Boston students for mentored research experiences.
Student tracking and outcomes: Demographic data are collected through the student application process and qualitative data through annually administered satisfaction surveys. Impact data are analyzed with the assistance of the Research Design and Analysis Core.
"The biggest takeaway from my trainee experience so far has been to value the importance of constructing bridges between our area of study and others in a scientific approach."
– Vida, PhD student
Services for faculty and postdoctoral mentors
Mentor training: Workshops focus on increasing mentoring skills, understanding the barriers underrepresented students face in pursuing scientific careers, and providing a forum for faculty, postdocs, and student trainees to discuss experiences and challenges.
Mentor Mondays: Faculty and staff meet every second Monday of the month to discuss mentoring challenges and receive advice from the group. If interested in attending, please visit events or contact U54REC@umb.edu.
Services for trainees
Internships: Assistance in identifying cancer/cancer disparities research opportunities at UMass Boston and DF/HCC.
Research skills workshops: Sessions focus on designing and conducting cancer/cancer disparities research, critical thinking in research, navigating scientific articles, troubleshooting data collection problems, ethics, and scientific culture.
Professional development seminars: These workshop series provide guidance on topics such as grant and scientific writing, finding your first academic job, advice on scientific publishing, and how to give a good talk and why it matters.
Journal clubs: Club members discuss recent landmark scientific articles to gain knowledge on research areas and foster hypotheses testing and other critical thinking skills.
For more information about the REC, contact Kate Loughlin at U54REC@umb.edu.